Yippee! I'm going this year!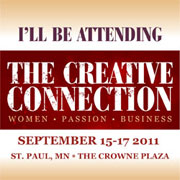 Can you tell I'm excited?
I wasn't able to attend last year.
And perhaps I wasn't quite ready. If you've read my blog for a while you may recall that this time last year we were still dealing with my son's recovery from his brain tumor and treatment.
Side note: my son continues to do well. He feels good, has gained back most of the weight lost during chemo, and we're optimistic that the next MRI will again reveal no new tumor. Praise Jesus!
Now, back to The Creative Connection.
It's going to be awesome to be surrounded by so many creative folks! Financially I could only swing one day so I choose
BlogHer Handmade
day. A day jam packed with networking, social media panels, and a dinner with
key note speakers
Cristina Ferrare (of Big Bowl of Love) and Holly Becker (of decor 8).
I'm going alone people! So if any of you are going to be there be sure to email me (sewingbysharon at gmail dot com) so we can hook up.
******************************************
Pin It